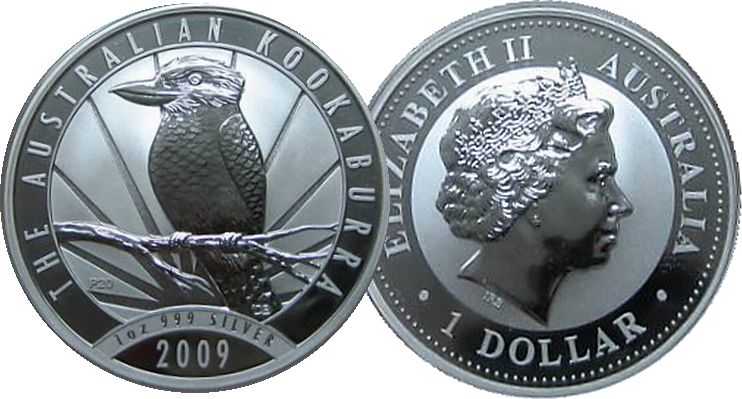 2009 Australian Uncirculated Silver Kookaburra
The 2009 Australian Uncirculated Silver Kookaburra is the twentieth coin issued in the popular Australian Silver Kookaburra Series. The Australian Kookaburra is the world's only silver bullion coin to change its design yearly. This design change, coupled with a very limited mintage, has made the Kookaburra one of the most popular silver bullion coins of all time. Due to exceptional worldwide demand, the Perth Mint has recently sold out their entire 300,000 annual mintage which is their earliest kookaburra sell out ever! These are almost impossible to find at coins shops anymore and prices will surely go up as remaining dealer stock is depleted.
The coin is gem brilliant uncirculated with a gorgeous "reverse-proof" finish. The background is frosted while the images have a mirror finish which is exactly the opposite of U.S. proof coins. Each coin comes in a clear plastic capsule as issued by the Perth Mint in Australia. Each coin has a face value of $1.00AUS and contains one ounce 0.999 fine silver.