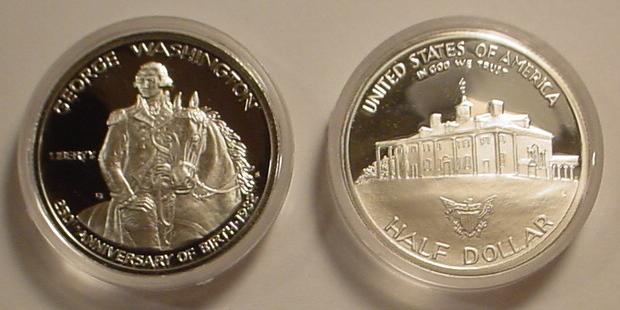 1982 George Washington Commemorative Proof Silver Half Dollar
This coin, the first commemorative half dollar issued by the U.S. Mint since 1954, commemorated the 250th Anniversary of the birth of George Washington. In addition, this was the first 90% silver coin produced by the U.S. Mint since 1964.
The obverse (front) of the coin features George Washington on a horse and the reverse features Mount Vernon, Washington's family home. These coins are gorgeous "proof-strike" gems, which are specially minted for collectors and are made from highly polished planchets (coin blanks) and dies. These coins receive the highest quality strike possible and can be distinguished from regular uncirculated coins by their sharpness of detail, deeply frosted cameo image, and brilliant mirrored background.
Each coin comes in a protective clear capsule and includes the original velvet lined box and Certificate of Authenticity from the U.S. Mint.